---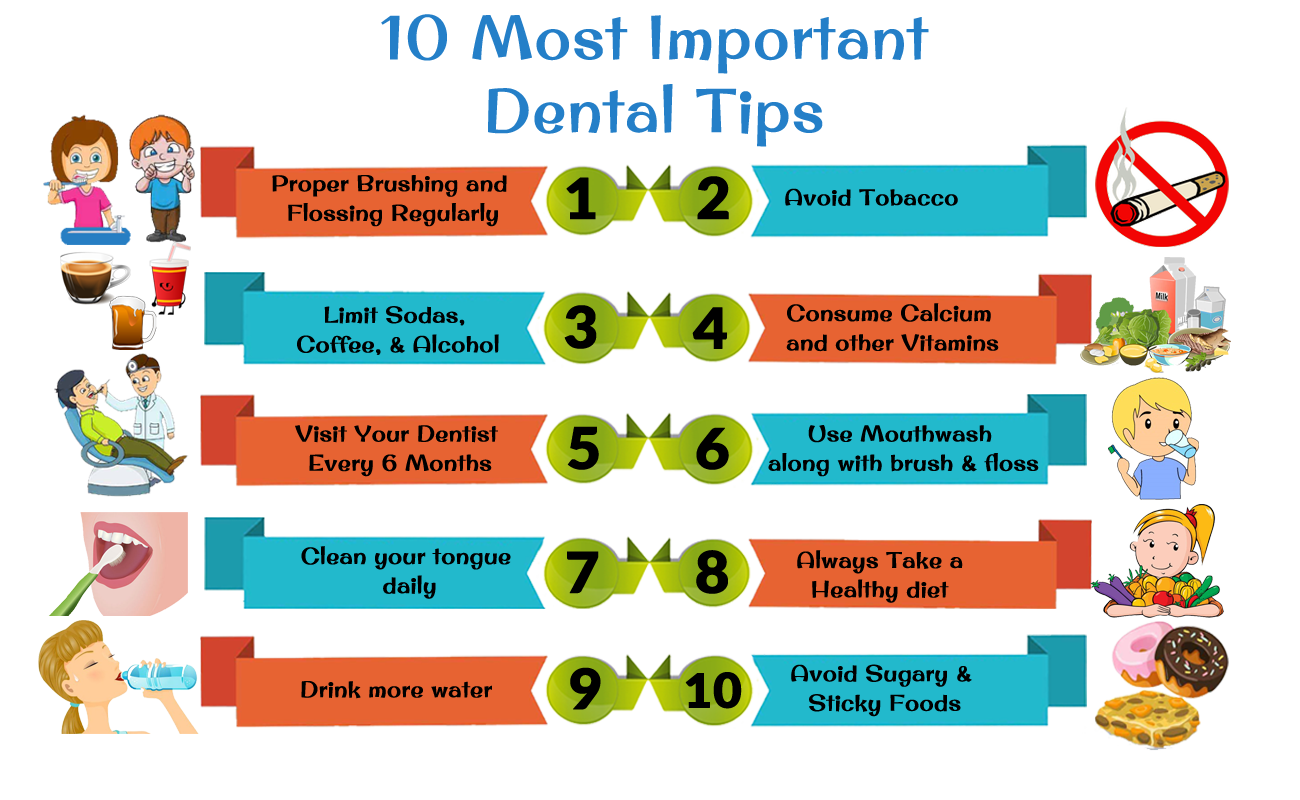 Everybody needs to have an amazing smile and it intends and says a lot about a person. A poor oral hygiene can prompt kinds of dental problems in future, for example, gum disease, bone loss, Tooth Decay, Cavity and that's just the beginning. Regular dental check-ups and cleanings can keep these issues and as well as provide you with good oral hygiene. Taking care of your teeth and mouth has never been more important. Protecting your teeth and gums should be considered as a necessary part of our daily routine. Here is a list of 10 most important Dental hygiene tips with that you can take to promote great oral hygiene.
1- Proper Brushing and flossing regularly: Properly Brushing help to keep your teeth and gum healthy and clean. And flossing can allow you to remove food particles and other harmful substances that brushing regularly can't. We frequently suggest Try to brush no less than twice per day and flossing at least once a day.
2- Try to Avoid Tobacco: Avoiding tobacco will be the great favor for your teeth. And also this habit will save you from lots of countless ill effects caused by tobacco such as oral cancer periodontal complications and more. So if you want to make your oral health better so you should avoid the habit of using tobacco.
3- Limit use of Sodas, Coffee, and Alcohol: These beverages hold a high-level of phosphorous which is necessary for teeth and a lot of phosphorous can consume the body's level of calcium. Beverages, for example, corn syrup and food color can change beautiful white teeth to look dull and stained. Consequently, the best drink to choose is milk it strengthens teeth and build stronger enamel giving you a healthy, beautiful smile.
4- Use Calcium and other Vitamins it good for the body and teeth: Calcium & other vitamins required for healthy teeth, gums and bones. It is better to drink milk, eat yogurt, broccoli, cheese, and other dairy products. Vitamin B complex is also required for the strength of gums and teeth from cracking and bleeding. Other vitamins such as Copper, zinc, iodine, iron, and potassium are also required for maintaining healthy dental hygiene.
5- Visit Your Dentist every six month: For Maintaining a proper oral hygiene make sure you should visit your dentist every six months to have a full hygiene treatment performed. A general exam is taken with x-rays to help detect and prevent future dental treatments from occurring and prevent dental diseases at its earlier stage.
6- Use Mouthwash alongside brushing and flossing: Mouthwashes include Listerine our chlorine dioxide are very helpful because they help to kill and maintain the bacteria in your mouth. It can help maintain good breath as well as help maintain strong teeth.
7- Clean your tongue Daily: Always clean the surface of your tongue daily. By using a professional tongue cleaner you remove countless bacteria that other than live, particularly on the rougher top surface of your tongue. These can contribute to bad breath and negatively affect your dental health.
8- Always take a healthy Diet: Try to eat a healthy diet it will help you to make your health healthy as well as your oral health. Eat crunchy fruits and vegetables it helps to clean your teeth naturally and keep your teeth and gums healthy.
9- Drink more Water: Drink more water it helps to produce more saliva. The average-sized adult should really be drinking 2 liters of water a day to keep us well hydrated. If we become under hydrated the body stops saliva production to preserve water for life support functions. Again a dry mouth is much more likely to decay.
10- Avoid Sugary and Sticky Foods: Reduce the number of sugar you use every day. Sugary and sticky foods are not teeth friendly diet. Sticky foods stuck between the teeth and cause of tooth decay. So try to avoid overtaking of these foods it will help you to keep your teeth and gum healthy and cavity free.
By following these healthy dental tips, you can maintain a good oral hygiene and prevent dental diseases. To know more about our dental programs, make a visit to our dental office New Image dental LLC. Our aim is to provide a healthy mouth and guide you to maintain the same. Our Dental hygienist offers a wide range of dental treatments. For further information make an appointment or call us at: 732-225-1020
---